CNME Editor Mark Forker managed to secure an exclusive interview with Rajesh Sajnani, Co-founder and Managing Director of CloudHost, and Nikhil Katara, Co-Founder and Director Operations of Cloudhost, both of whom are responsible for driving the phenomenal growth of the cloud company over the last number of years.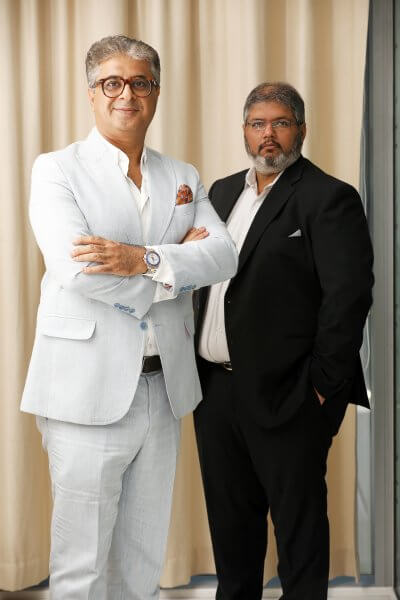 CloudHost has been a market disruptor since its inception in 2015, and the innovative cloud solutions provider is continuing to make waves in what is becoming an increasingly saturated and competitive cloud market in the MENA region.
In a candid interview, both co-founders highlighted how customer-centricity has been a key component in its success and is what ultimately differentiates them from their market rivals. Rajesh Sajnani has built a retail empire that continues to enjoy huge growth, but he stressed that even though technology and retail are two very different verticals, the core principles remain the same, which is ensure the delivery of great customer experiences.
The duo explain how customer experience has always been in its DNA and that the ever-changing landscape of the IT industry has forced them to realign their initial business model – and was the primary reason they developed their new end-to-end e-commerce platform CloudSouq, tipped to be an industry gamechanger.
Katara said, "We started four years ago as a cloud provider, and there's always a constant need for innovation. The continuous evolution of technology has seen us transition from being a regular cloud provider to an enabler of digital transformation and end-to-end solutioning for our customers. We identified that traditionally cloud providers offer infrastructure as a service and hosted applications, but nobody went beyond that."
"We decided that we wanted to make the customer experience better, and that's why we developed an end-to-end one stop solution that catered to all the needs of our customers. Our mission is to allow businesses to look after their operations and let us manage their technology."
Sajnani talked about the many new and disruptive technologies that have penetrated the ICT ecosystem, and that in the era of the Fourth Industrial Revolution it was imperative that enterprises embrace change.
Sajnani said, "We've invested a lot in new technologies, and we've illustrated this with our investment in our CloudSouq e-commerce platform. We make businesses 'future-ready'. In this era which has been described as Industry 4.0, it's impossible for a business to know what the future of technology is going to look like. However, what we do is make enterprises future-ready so there are able to adapt and capitalise on the opportunities when these new disruptive technologies emerge."
According to Sajnani, CloudSouq allows businesses to integrate new technologies into the platform without causing disruption to their day-to-day business.
He said, "The platform has been built to enable enterprises to implement new technologies such as Internet of Things, Big Data and AI into their business at any stage in the future. This can be done in a seamless way which doesn't disrupt their existing operations.
Through CloudSouq, companies can have access to a state-of-art cloud solution on a Private Cloud, from website hosting and domain to ERPs on business applications to DataRecovery. The platform also ventures out to Fusion Cloud, AI and Security. Covering a complete cloud portfolio on a single pane of glass. By simplifying how organisations manage their IT assets, CloudSouq makes migration to cloud much simpler and highly appealing.
Sajnani warned enterprises that resist change and said those hesitant to new technologies run the risk of becoming obsolete, before amplifying how CloudHost is uniquely positioned to help businesses navigate their way through the choppy waters of digital transformation.
The co-founder and Managing director said, "Businesses can't be idle and then wake up in 5 years and say I want to get here when they're not ready to do it. This is what digital transformation at its core means. We take companies on this journey towards digital transformation without forcing them to make a huge CAPEX investment, whilst at the same time helping them to reduce the overall costs of their operations, make them lean from a technology perspective – and ultimately accelerate their growth."
Katara interjected by saying the CloudSouq platform doesn't discriminate. He said, "It doesn't matter to us if you're a startup with three users or a multinational conglomerate with 50,000 employees. We can scale at the pace the customer wants and we offer flexibility and customization."
In terms of why they devised the CloudSouq platform it became evident from their discussion with key industry stakeholders that many were reluctant to surrender control over their data and wanted to have full autonomy on their business.
Katara said, "We've encountered a lot of businesses that were skeptical about transitioning towards the cloud. Their attitude was that their data should reside with them and they didn't want to give it to anyone. They knew all about the cloud and they were acutely aware of its capabilities but their embracement of transitioning towards the cloud was laced with skepticism."
"They expressed concerns that they'd no longer have control over their data and questioned if it would be secured. What would happen if the data was lost? We listened to all this feedback and we developed a platform that gave customers the autonomy and control they wanted. Our CloudSouq platform is empowering our customers. We're allowing them to provision, control and manage everything that they want to do."
Sajnani pointed out that the CloudSouq platform is completely unique and is an innovation that is set to completely transform the cloud industry in the Middle East.
He said, "We're the only company that is offering these types of cloud services, so we're incredibly unique to the market. We're the first provider to launch a transparent cloud platform in the private hosted domain. We're the only provider in the Middle East offering this type of service, and in fact there are very few in the world doing what we're doing."
Katara also spoke about how CloudHost was approaching the topic of digital transformation in an altered way to its industry rivals.
He said, "When you talk about digital transformation in the ICT industry, everybody talks about digital transformation from the perspective of a customer, but nobody looks at it through the lens of an internal customer who is serving the customer. If the internal customers receives' a better experience – then he will be able to serve his end customer in a much more efficient way. This is a gap in the digital transformation space that nobody is looking at. In other words, we're transforming the transformers."
Sajnani said that he believes that CloudSouq will resonate with customers because of the incredibly diverse range of options the solution provides.
Sajnani added, "The economy as we all know can be volatile and businesses want to reduce their costs whilst at the same time maintaining efficiency, so that's why the CloudSouq e-commerce platform is the right platform for them to integrate it into their operations as it reduces the cost of your IT spend by a minimum of 20-45%.
"In summary the platform reduces costs, enhances efficiency, makes your business future-ready, is integrated with the latest technologies, has speed, scalability and flexibility – and enables you to expand to any other countries across the world."
CloudHost has also struck a chord in the market with its solutions CloudScales, Applite and CloudApps. According to Katara, CloudScales has been the base for every cloud company which is providing infrastructure as a service. Infrastructure as a service was typically on a plan-based model, but now we've taken this infrastructure as a service to new layers in the form of standard off the shelf, user-based and resource-based.
Solutions offered by CloudHost, such as CloudScales and AppLite are featured on CloudSouq as a must have solutions for growing organizations.
Katara said, "This unique offering is available to all MENA's SMB's and enterprises. With the current market standing, companies do appreciate flexible payment structures and the ability to scale resources without any additional commitments. Platform will cater to user-based solutions, plan based and resource-based solutions giving full provision and control over payment, services and the contract. Single stop solution. Single Invoice. Single SLA for all services. One point of contact, one managed service provider. There is no other provider who is giving an end to end service for cloud."
Katara said, "We engaged in a lot of consultations with our R&D, and as a result we've designed a platform that would give customers a sense that they had their own data centres. Typically, the IT manager or the CIO would buy hardware and build it up using his own rack. However, we've transformed this process in such a way that the customer or the IT manager can purchase chunks of resources at the flick of a button and customize it the way he wants it.
"In order to achieve this, we make it transparent, we empower the customer and we give him full autonomy and control. At the same time, we're assisting with all their managed services to make sure they're supported in every aspect."
Sajnani concluded by highlighting that customer-centricity is fundamental to everything they do and design, and that the fact its solutions are flexible and empower the customers is what they firmly believe will be a recipe for their long-term success in the cloud market.
He said, "Flexibility is key to what we do and what we offer. We're empowering the customer so we're giving him the opportunity to take it in any direction they want. For example, in terms of billing options we also offer flexibility. We give customers all the three options of billing, but the question for us was how do we make it more unique? What we did was engage with application vendors like Sage, Epicor and Focus to devise a plan for them for their own user-based platform. If a customer needs to use Sage's private cloud, he can subscribe for it on a per-user base, when he adds one more user he can pay for the user as if he were buying a SaaS model. This simplicity and flexibility are what is differentiating us from our competition, and we believe will lay the foundations for our continued growth and success in the cloud market."
Some of the features of its Cloud Billing and Cost Management portfolio include:
Consumption or Subscription Billing:
Quickly generate accurate, easy-to-read bills across public, private, and hybrid clouds. Simplify and streamline invoicing and billing for your products and services. Combine usage billing with recurring subscriptions to optimize your revenue mix.
Custom Pricebooks:
Optimize margins with flexible payment models and customer-specific pricebooks. Define prices from single line items to entire pricebooks for each customer or customer tier.
Integrated Dashboard:
Aggregate billing data across clouds and providers into a single-pane dashboard. Easily access and analyze detailed, user-level behavior and cloud cost information.
Third Party Cloud Integration:
Accurately parse customer-level billing reports with complete integration of cloud infrastructure provider billing data. CloudSouq supports Google Cloud Platform, Amazon Web Services, Microsoft Azure, CenturyLink, IBM SoftLayer, Acronis, SingleHop, Intermedia and more.